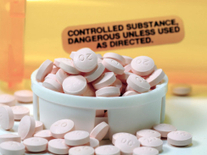 Methadone accounts for only 2 percent of painkiller prescriptions in the United States – but the drug is behind more than 30 percent of prescription painkiller overdose deaths, the Centers for Disease Control and Prevention announced Tuesday.
Fatal painkiller overdoses soar in U.S., CDC says
Study: Heroin may be cheaper and more effective at treating addicts than methadone
Five signs a loved one is abusing painkillers
Methadone is commonly known for treating withdrawal symptoms from heroin addiction, but the drug is also prescribed for pain. Health officials say most of the overdose deaths are people who take it for pain – not heroin or drug addicts.
According to the CDC, methadone carries more risks than other painkillers because levels build up in the body and may interfere with a person's normal heart rhythm or breathing.
See on www.cbsnews.com